SHOP OUR RANGE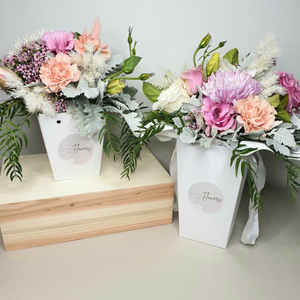 PASTEL COLLECTION
TAKE A LOOK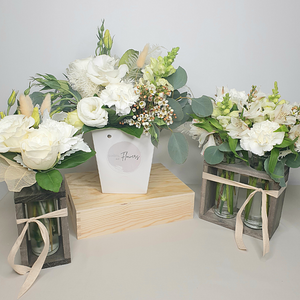 NEUTRAL COLLECTION
TAKE A LOOK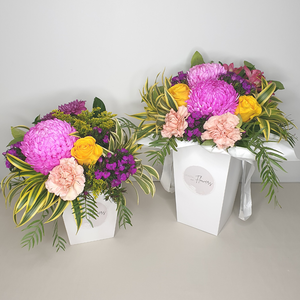 BRIGHT COLLECTION
TAKE A LOOK
Testimonials
Thank you so much for the beautiful flowers you delivered today, I am very happy with your custom & will definitely recommend you to all my friends

Sheryl
Thank you so much! She absolutely loved them and I will definitely be ordering from you again! 

Sasha
I'm in the UK and like to send my daughter who lives in the Gold Coast flowers every now and then. So far it's been a bit hit and miss but I've now found Coastal Flowers who delivered my daughter a beautiful bunch of pastel flowers last week - very impressed. So happy to have found such a super florist

Harriet
Thanks for the lovely flowers you delivered for Mothers Day, my mother in law was very happy. It is her 87th birthday on Saturday so we have decided to send her another of your lovely posies. Thank you very much.

Lynn
Thank you for your excellent service and beautifully arranged flowers you delivered yesterday. I'll keep your contact.

Phillipa
I ordered the beautiful bottled flowers from Melbourne for a friend in QLD, they were so happy - just stunning!!

Judy
Just a thank you for the amazing service! I ordered your floral bottles to be delivered to my Aunty and they were just beautiful! Such a cute idea!! Much appreciated

Shelley
Thank you all so much for your fantastic service. My aunt was delighted by the delivery yesterday. I will absolutely keep your details and refer you to anyone I can.

Amy
Hey Heidi
They arrived and they're beautiful
Thank you

Josephine
Flower Delivery Brisbane and Sunshine Coast
Take Advantage of Flower Delivery Near Brisbane
We give flowers on many different occasions, such as birthdays, anniversaries, and sometimes just to show someone that we care. People love receiving surprise flowers, a gift that always makes them feel that someone cares about and loves them. Choosing the correct types of flowers is vital to send the recipient the message that you want to convey, as each flower has a different message. Everyone knows that sending a dozen long stem red roses symbolises love, but other flowers such as sunflowers indicate adoration.
If you're unsure which flowers to send your loved one, speak to us, and we'll share our knowledge of flowers with you. With our flower delivery near Moreton Bay and North Brisbane , you can convey your feelings along with the ease of placing your order online.
Benefits of Brisbane Flower Delivery
We all lead busy lives, but you no longer have to worry about trying to make it to your local florist to purchase flowers for your loved ones. You can easily place an order online, and your florist will deliver them to your chosen recipient on time and in perfect condition. Here are some of the benefits that you can take advantage of when you order flower delivery near North Brisbane in Australia:
Spoilt for choice. When you go to a florist, you may find that the particular flowers that you're looking for are sold out. When you order online, you are much more likely to find exactly the flowers that you want to send. Online stores also offer a wider variety of not just flowers but also added extras that you can choose to send with your flowers, such as balloons or teddy bears.
Correct transportation. Making sure that your loved ones receive their flowers in pristine condition requires transporting them in a vehicle that can secure them so that they won't fall over or get damaged. Your florist knows how to safely transport your flowers to the recipient.
Convenient. Shopping online is all about convenience, so why should buying flowers be any different? When you buy flowers online, you don't have to worry about leaving your home and fighting traffic to reach the florist before they close. You can simply switch on your computer, place your order, and allow us to do the rest.
Take advantage of specials. Many online florists offer specials on bouquets and arrangements, which may include adding ribbons or chocolates to your delivery. When you're sending flowers, take note of these specials for maximum value.
Tips for Having Flowers Delivered Near Moreton Bay and Brisbane
If you've never ordered flowers online before, you may not know what to expect. While ordering flowers is a simple process, there are a few things that you need to remember to ensure that your flowers arrive on time and for the correct person. Here are some tips to keep in mind when you choose florist delivery near Bribie Island :
Get personal. The first step to ordering flowers is choosing flowers that you're sure the recipient likes. If you're unsure which bouquet to choose, ask your loved one's friends and family members for some ideas.
Order early. Once you choose the perfect bouquet, place your order early enough for the recipient to receive them on time. Particularly for special days such as Valentine's Day, Mother's Day, or Father's Day, you need to remember that many other clients will be placing their orders, too, so placing your order as early as possible ensures that your flowers will arrive right on time.
Enter the correct details. Entering your and the recipient's correct details into the checkout page is essential to guarantee that your flowers arrive at the right address for the right person.
Why Trust Coastal Flowers With Flowers Near Brisbane for Delivery?
With more than two decades' worth of knowledge and experience in the floral industry, you can trust Coastal Flowers to arrange beautiful bouquets for you and deliver them to your loved ones. You can order your flowers online near North Brisbane and rest assured that they'll arrive in perfect condition.
For more information about our flowers, contact us today.